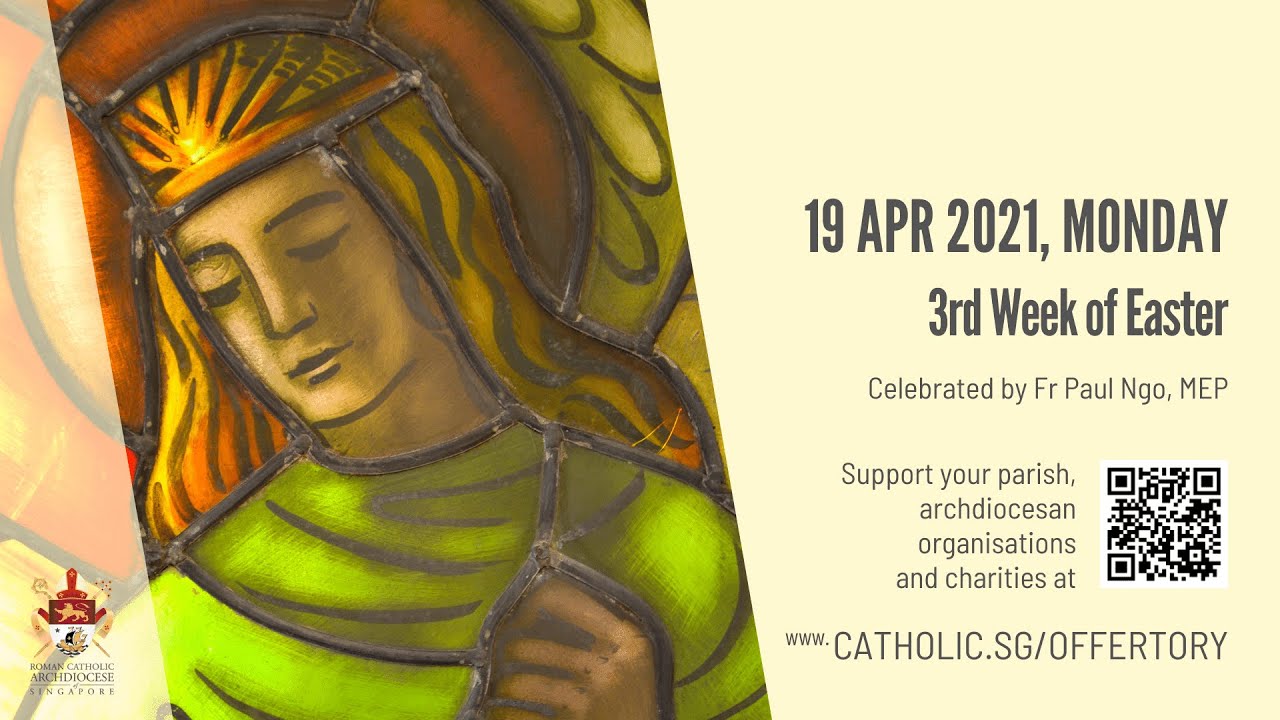 Catholic Mass Today Monday 19th April 2021 Archdiocese of Singapore
Monday, 3rd Week of Easter (19 April 2021)
Mass Celebrated by Fr Paul Ngo, MEP
at the Church of the Immaculate Heart of Mary, Singapore
The celebrant for Masses on our channel for Wednesdays to Sundays is Archbishop William Goh.
The Catholic Mass today is celebrated all around the world. Here in Singapore, we are pleased to provide online, daily Catholic Mass live or recorded in English to all Catholics and anyone interested in the Catholic faith. During Catholic Masses, it is not uncommon to hear a homily about Catholic teachings and Catholic answers to life's questions. The Holy Mass is beautiful and stems from Jesus. Expect Catholic prayers, Catholic hymns (Christian songs) that come from 2000 years of tradition and practice. All are welcome.

Daily Reading for Monday April 19, 2021
Reading 1, Acts 6:8-15
Responsorial Psalm, Psalms 119:23-24, 26-27, 29-30
Gospel, John 6:22-29
Catholic Mass Today Monday 19th April 2021 Archdiocese of Singapore
Reading 1, Acts 6:8-15
8 Stephen was filled with grace and power and began to work miracles and great signs among the people.
9 Then certain people came forward to debate with Stephen, some from Cyrene and Alexandria who were members of the synagogue called the Synagogue of Freedmen, and others from Cilicia and Asia.
10 They found they could not stand up against him because of his wisdom, and the Spirit that prompted what he said.
11 So they procured some men to say, 'We heard him using blasphemous language against Moses and against God.'
12 Having turned the people against him as well as the elders and scribes, they took Stephen by surprise, and arrested him and brought him before the Sanhedrin.
13 There they put up false witnesses to say, 'This man is always making speeches against this Holy Place and the Law.
14 We have heard him say that Jesus, this Nazarene, is going to destroy this Place and alter the traditions that Moses handed down to us.'
15 The members of the Sanhedrin all looked intently at Stephen, and his face appeared to them like the face of an angel.